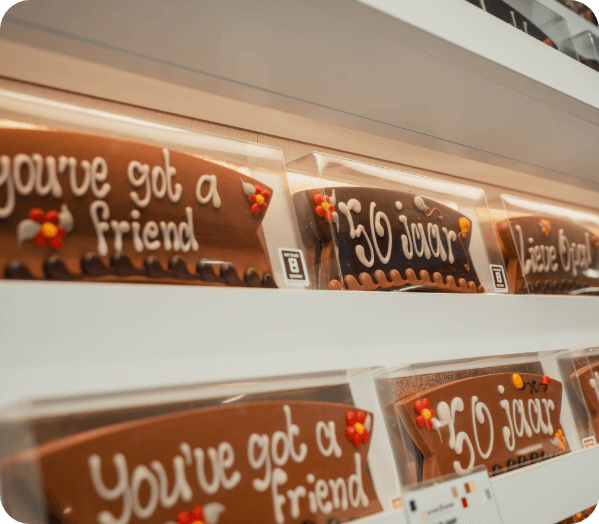 Van Beek & Specker is een familiebedrijf, gespecialiseerd in het maken van een groot assortiment aan banket. Door dit grote assortiment, is er bij onze banketbakkerij voor elke gelegenheid wat lekkers te verkrijgen. Zo maken wij bijvoorbeeld taarten voor (kinder)verjaardagen en trouwfeesten verzorgen wij gebak voor bedrijven en hebben wij verschillende soorten leuke cadeaus om te geven bij leuke gelegenheden. Verras iemand met een lekker cadeau uit onze webshop of winkels in Rotterdam!
Wil je meer informatie over onze lekkere producten óf wil je onze producten bestellen? Klik dan op de onderstaande knop om naar de webshop te gaan!
Naast onze lekkere gebakjes, taarten en ons stukwerk, maken wij ook onze eigen chocolade producten in onze chocolaterie. Zo maken wij bijvoorbeeld bonbons, maar ook chocolade cadeaus voor iedere gelegenheid. Onze chocolade producten worden gemaakt van 100% eerlijke chocola, waardoor de chocoladeboeren een eerlijke prijs krijgen voor de producten die zij verkopen. Hierdoor willen wij dan ook graag een steentje bijdragen aan een eerlijke samenleving.
Benieuwd naar deze leuke, maar vooral lekkere chocolade producten? Klik snel op de onderstaande knop om meer informatie te krijgen over deze producten of om direct online te kunnen bestellen.